The previous bar and lounge at Castle Cottage has been transformed into an aviation themed bar. It is a reflection of the 30 years the new owner, Darryl Jenkins, spent in commercial aviation, flying aircraft from single engined Cessnas right up to 747s and 777s for Cathay Pacific Airways. The walls are adorned with many photos and memorabilia giving an interesting catalogue of his life in flying machines.
This warm and welcoming Aviation Bar was named Three Greens after the green lights displayed on the flight deck once the gear is locked down for landing and also as a nod to the many golfers who stay with us and their beloved greens!
The bar has half a dozen draught beers on tap as well as local bottled ales and international lagers. There is also a wide range of spirits and a cracking wine list with quality wines from Ffarm Vintners. In line with our wish to support local businesses, our freshly roasted coffee beans are from the exceptional Ffa Da Coffee.
Have a drink in the bar with a great view of Mount Snowdon in the near distance, or enjoy a meal in our cosy restaurant, Pattra's.
You're bound to find a warm welcome and have an enjoyable time!
All spirits are a 35ml measure unless stated
Gordons gin
Smirnoff vodka
Famous Grouse whisky
Bacardi White rum
Martell brandy
Jack Daniels bourbon
Pernod
Tequila
Southern Comfort
Jameson
Campari
Jägermeister
Vermouth Dry/Rosso(50ml)

Please see our selection in the bar
Dry/Medium/Cream - £3.70
Manzanilla - £4.20
Pedro Ximenez - £4.70
House Port - £4.70
Late Bottled
Vintage Port - £7.00
Fevertree Tonic/light Tonic
Soda Water
Orange Juice
Tomato Juice
Bitter Lemon
Dry Ginger
Coke/Diet Coke
Lemonade

Aviation
Bombay Sapphire
Brecon
Great Orme
Thyme, Gorse & Blackcurrant
Great Orme Rhubarb & Mint
Great Orme Orange & Ginger
Hendricks
Tanqueray


Absolute
Brecon Five
Finlandia

The Kraken Black spiced
Mount Gay
Woods 100 Old Navy

Aberlour
Bowmore
Jura
Laphroaig
Penderyn
Talisker
Tamnavulin

Courvoisier VS
Remy VSOP
Armagnac 5 year old
Calvados
Draught Beers - Half - Pint

Carling - £1.90 £3.80
Offshore Pilsner - £2.15 £4.30
Peroni - £2.60 £5.20
Worthington's
Creamflow - £2.15 £4.30
Guinness - £2.40 £4.80
Aspalls Cider- £2.10 £4.20
International Bottled
Lager - various - £3.75
Bottled Purple Moose
Beer 500ml - £4.50
Bottled Welsh
Cider 500ml - £4.50
Low Alcohol Lager - £3.00
Gluten Free Lager - £4.00

BOTTLE GREEN SPARKLING PRESSE
Raspberry lemonade
Apple
Ginger Beer
Elderflower
Welsh water-still/sparkling
330ml -£2.50
Welsh water-still/sparkling
750ml - £4.00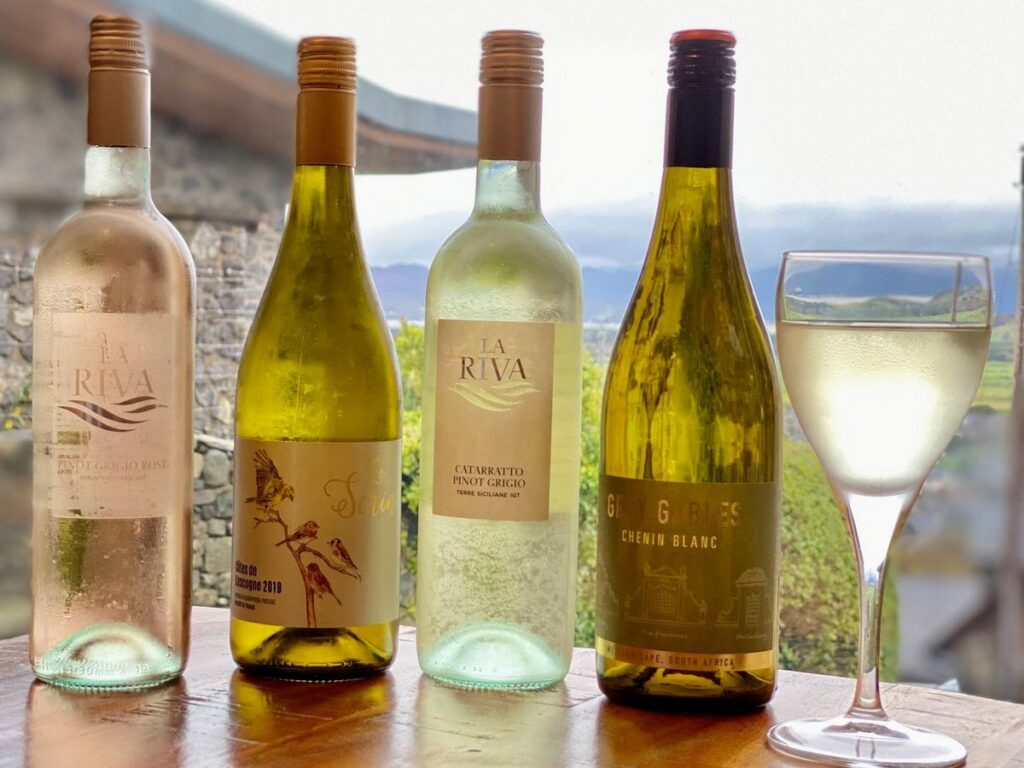 Chenin Blanc. Grey Gables,
Western Cape. South Africa. (3)
Zesty pear fruit with peachy notes and a guava finish.
175ml glass – £5.25      250ml glass – £7.40
Bottle –   £22.00
Le Serin Blanc. Cotes de Gascogne, France. (2)
Apple fruit with a  gooseberry palate and grapefruits.
175ml glass – £5.25      250ml glass – £7.40
Bottle –   £22.00
Catarratto-Pinot Grig La Riva, Veneto. Italy. (2) (V)
Crisp with acacia flower aromas and ripe tropical fruit.
175ml glass – £5.25      250ml glass – £7.40
Bottle –   £22.00
Gruner-Veltliner, Little Cricket, Hungar (2)
Crisp with apple notes and yellow plum fruits.
Bottle –  £23.00
Sauvignon Blanc. Taringi, Marlborough. New Zealand. (1)
Herbaceous style with tropical punch and a tangy finish.
Bottle –   £30.00
Los Olivos Chardonna Zuccardi, Mendoza. Argentina. (2) (V)
Vibrant with a pink grapefruit palate and melon fruits.
Bottle –   £28.00
Macon Blanc Villages. Jules de Souzy, France. (2)
Apple palate, floral characters and a lemon finish.
Bottle –   £38.00
Pinot Grigio Rosato. La Riva, Italy. (2) (V)
Raspberry aromas with pear hints and a crisp palate.
175ml glass – £5.25      250ml glass – £7.40
Bottle –   £22.00
Whispering Angel Rose. Chateau d' Esclans,
Cotes de Provence. France. (2)
Light with crushed strawberries and gentle lemon hints.
Bottle –   £44.00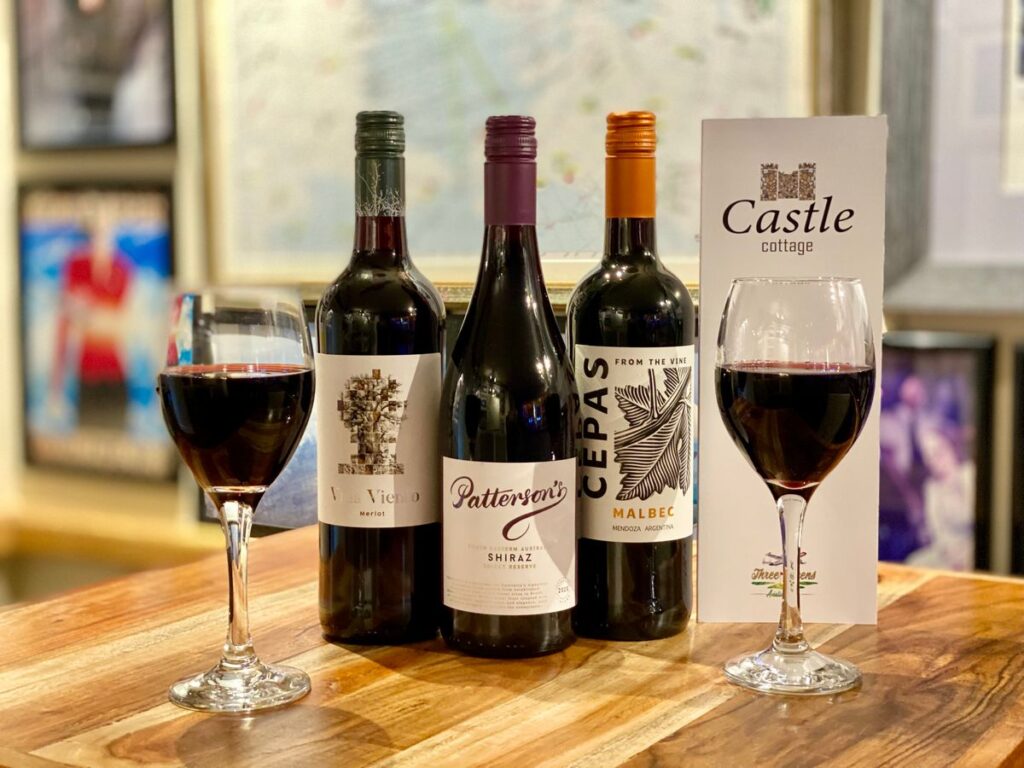 Merlo Vida Viento, Central Valley. Chile. (C)
Ripe cherry fruit with hints of mocha and chocolate.
175ml glass – £5.25      250ml glass – £7.40
Bottle –   £22.00
Patterson's Select Reserve Shiraz. Australi (E) (V)
Bold, ripe jammy fruit with soft, subtle oak influence.
175ml glass – £5.25      250ml glass – £7.40
Bottle –   £22.00
Malbec. Cepas, Mendoz Argentina. (C)
Fresh strawberries with sweet spice and a bramble finish.
175ml glass – £5.25      250ml glass – £7.40
Bottle –   £22.00
Appassimento Ross Puglia, Vino Passito, Italy. (C) (V)
Rich with ripe plums, violet notes and hints of vanilla.
Bottle –   £30.00
Cune Seleccion del Sumiller Crianz
CVNE, Spain. (D)
Toasted black fruits with balsamic aromas and spice hints.
Bottle –   £28.00
Cotes du Rhone. M. Chapoutier, Rhone Valle France. (D)
Bright red fruit with good structure and silky tannins.
Bottle –   £32.00
Fleurie. Jules de Souzy, Beaujolais. France. (B) Velvety and elegant with raspberries and spicy nuances.
Bottle –  £36.00
Prosecco Spumante, La Scarpetta, Italy. (2) (V)
Aromatic bouquet with lemons and a zesty pear finish.
Bottle –   £26.00
Prosecco Spumante. Vispo Allegro. Italy. (2) (V)
Stone fruit flavours, peach notes and a lime bouquet.
Quarter Bottle (20cl) –   £8.50
Champagne Irroy. Carte d' Or Brut. (1) (V)
Champagne Irroy are owned by Taittinger.
This is smooth and creamy with brioche hints and citrus fruits.
Bottle –   £49.00

Laurent Perrier Rose. Brut. (1)
Strawberry bouquet with hints of spice and raspberries.
Bottle –   £829.00